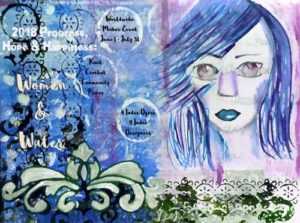 Happiness Make-A-Long 2018 je mezinárodní společné pletení a háčkování návodů od 9 nezávislých návrhářek vytvořených z přízí od 4 nezávislých barvířek. Letošním tématem jsou ženy a voda. Já se účastním jako návrhářka i barvířka, tak mám pro vás spoustu novinek.
Kde si mohu prohlédnout návody?
Prohlédněte si lookbook celé kolekce, který obsahuje fotografie a inspirační citáty k tématu.
Na Ravelry je kolekce návodů přímo ve skupině pro tuto akci
Zde v e-shopu máte možnost si koupit v češtině můj návod na ponožky Secret of a Summer Night a také sady pro upletení či uháčkování návodů ostatních návrhářek, které byly zhotoveny z přízí Pipa Yarns, a které jsem pro vás přeložila do češtiny. Vše naleznete v kategorii Happiness Make-A-Long.
Jak se mohu zapojit?
Pořiďte si libovolný návod z kolekce a nahoďte 🙂 Tištěné návody v češtině pořídíte v e-shopu zde, ostatní anglicky na Ravelry.
Není povinné použít příze z návodu, ale určitě s nimi neuděláte chybu. 😉
Přidejte se do skupiny na Ravelry, kde budou probíhat různé akce a soutěže
Na Instagramu se můžete zapojit s hashtagem #happinessmakealong2018 a také se přidat k instagramové foto výzvě, která má jen 2 témata týdně, takže je zvládnutelná i pro nás, co to s focením na Instagram denně nestíháme. 🙂
Kdy akce probíhá?
Začínáme dnes. 🙂 Celá akce probíhá od 1. června do 31. července.
Co když si nebudu vědět s něčím rady?
Ráda vám pomohu, napište mi buď e-mail na pipayarns@gmail.com nebo se přidejte do skupiny na Facebooku Pipa Yarns & Knits.