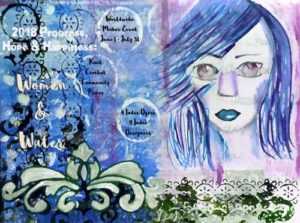 Happiness Make-A-Long 2018 is an international, online  knit- and crochet-along of patterns by 9 independent designers made with yarns by 4 independent dyers. This year's theme is Women & Water. I am both a designer and dyer for this event.
Where can I see the patterns?
See the lookbook of the whole collection here. It contains pictures of all the  patterns as well as inspirational quotes chosen by the designers.
You can also see the patterns in this Ravelry bundle
Here, on www.pipayarns.cz, you can buy printed versions of my sock pattern, Secret of a Summer Night, as well as yarn + pattern kits for the patterns made with Pipa Yarns. These can all be found under the category Happiness Make-A-Long.
How can I join the event?
Get any pattern from the collection and cast on. 🙂 Printed patterns from me and with Pipa Yarns are available here in my shop, all the others can be bought on Ravelry.
It is not neccessary to use the original yarn in rhe pattern, but we dyers very much appreciate you using them very much. 😉
Join the Ravelry group, for chatter, contests and giveaways
Use the hashtag #happinessmakealong2018 on Instagram. You can join the photo challenge there – there are only 2 prompts a week, so it's easy enough to keep up even for people like me. 
When is this happening?
From June 1st, until July 31st, so there is plenty of time to finish even more than one project.
What if I run into any problems?
Apart from the Ravelry group mentioned before, I am happy to help with any questions you might have in my Facebook group Pipa Yarns & Knits. Feel free to join and share your HMAL projects.